Colorado is ranked as one of the healthiest states in the nation. And it's no wonder! There are plenty of things to do in Colorado and there are many outdoor activity options. Even though Colorado does have a bunch of outdoor options, people spend an average of 70% of their lives inside their homes. A study on indoor air quality found that the air indoors is 10 times more polluted than the air outside. The direct sun acts as a giant disinfectant for the outdoors, but our homes get sealed up with very little air exchange, especially in the winter months.  What can you do about indoor air quality?
The Effects of Poor Indoor Air Quality
Poor indoor air quality is even thought to be a leading root cause of allergies. It is also ranked as one of the greatest risks to public health by the EPA. Chemicals don't stay inside products. Cheaply built products and materials are more likely to have more compounds in them that can eventually seep out and pollute the air inside your home. Just think of it. Some of the worst air quality is right in your home. If you can find ways to improve the indoor air quality, you can see a difference in your health and in the way you feel and sleep.
Choose a Quality Custom Home Builder
One of the best things you can do is to choose a quality builder for your custom home project in Colorado. As a custom home builder in Montrose, we care about you and your health. The building materials we use are affordable to keep the cost of a custom home lower, yet they are still quality materials. Our custom homes are not only affordable and good looking but are also better for your health. We do things right the first time and utilize high-quality materials for a healthier custom home.
We never use harmful materials that may save on costs at first but wear out or degrade over time. Along with making sure we use quality materials, the dirt and ground work we do ensures that there is proper drainage in your yard. This also ensures that water will flow away from your house and won't cause mold, mildew, or other issues that can greatly reduce indoor air quality.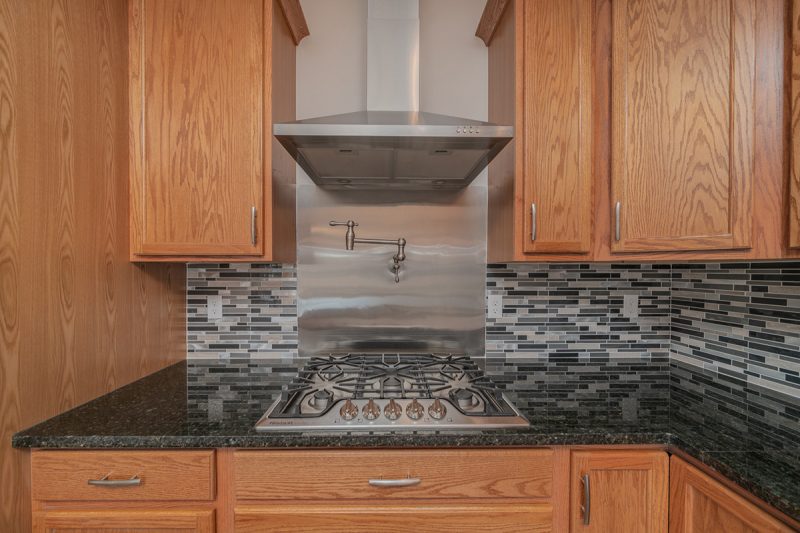 We use quality materials. Adding a range hood gives your home more ventilation.
What You Can Do
One of the best things you can do is just to vent out your home when you first move in. Even with the use of higher quality materials, indoor air quality will still be reduced. Venting your home allows an exchange of air. Research has shown that fresh air has a detoxing and cleaning effect. Allowing fresh air into your home can help flush out impurities and improve your overall health. It's even recommended that you vent your house in winter. Open doors and windows for small increments during the warmest part of the day if possible. Germs spread more in winter because of the confined environment in indoor spaces. Fresh air can flush out and even kill these germs, keeping you and your family healthy.
Keeping your inside doors open and turning on fans for air circulation will help as well. If the air in your home ever seems stale, it probably is. When the nicer spring weather comes, try to open up your home as much as possible after it's been closed up for the winter months. And even though certain fragrances and cleaners can make your home seem fresh, be careful of what you use as you may just be introducing more pollutants to your home.
Air Filters and Humidifiers
Air filters can help a lot with the indoor air quality of your home. Get a filter that is HEPA certified. These types of filters are better than the rest because they can trap the smallest particles and pollutants. There are advanced whole-home filters available as well as smaller filters for individual rooms. The dry air in Colorado tends to carry more dust and other particles. Using a humidifier to keep your home at a relative humidity level of 40%-60% can help knock some of those pollutants out of the air, as well as being better for your skin health.
If you're interested in learning more about our custom homes in Montrose, Colorado, click below to contact us! We would be happy to talk more with you about your needs in a custom home project.